Artist Development
A Distinctive Guide To The Music Industry's Lost Art
* The book is now out of print, however, feel free to contact us and we will send you a free E-book that contains several of the most important chapters from the print version of the book.
* The book is now out of print, however, feel free to contact us and we will send you a free E-book that contains several of the most important chapters from the print version of the book.
Eugene Foley teaches up-and-coming artists, musicians, songwriters, managers and independent label owners the key elements regarding the most important topic in the music business, and one that is often ignored these days, Artist Development.
Foley, a renowned agent, consultant and author, presents this information in a clear, concise, musician-friendly manner. After many years of working in the music industry on a daily basis, Foley knows the areas that people generally need the most help with. He turned those needs into an educational primer that presents a solid overview about Artist Development, along with several other important topics that beginners and intermediates should know more about if they expect to compete in this business.
Foley also includes numerous candid and entertaining stories culled from his vast experiences.
If you like your facts straight to the point, have a strong desire to reach your potential and strive to set realistic career goals, then this is the book for you! Artist Development, A Distinctive Guide To The Music Industry's Lost Art is a helpful resource for anyone trying to advance their career in this dynamic industry. Each section is full of valuable information and presented with Foley's direct and engaging style.
'In an industry that has a nasty habit of churning out one-hit wonders instead of developing artists, Foley's book hopes to offer guidance to young musicians hoping for long-term fame.'- C.M.J.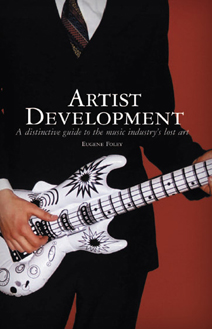 Artist Development – A Distinctive Guide To The Music Industry's Lost Art provides answers to many of the most frequently asked questions songwriters, artists and managers ask, including:
How do I prepare a professional press kit?
How do I arrange my songs to get radio station, music publisher and record company interest?
How do I secure a Manager and a Booking Agent, and when do I need them?
How does music publishing work, and what could a publisher do for my career?
How do I secure CD reviews and interviews in newspapers, magazines and online?
How do I get my music played on college radio stations across the country?
How important is touring to my career?
What are the benefits of a music video?
How do I go about securing endorsements from music equipment manufacturers?
Which U.S. cities are most receptive to original music, and have a thriving music scene?
Topics Include: Artist Development Techniques, Improving Your Songwriting, Press Kit Design, Choosing Advisors, Publicity, Media Buying, Radio Promotion, Music Videos, Touring, Record Companies, Distribution, Music Publishing, Alternative Career Options.
Quotes About The Book
'It is no secret that record labels are under a tremendous amount of pressure these days to keep afloat. They no longer have the time or money to take on an artist, nurture and develop them into a success. In order for an artist to get to this point they need to learn the art of 'Artist Development.' Foley's book quickly achieves clarity on many complex topics that can overwhelm the everyday musician, and throughout the book he keeps the tone very positive. As educators, we are always on the lookout for resources that will help a particular student demographic. For those who need information on artist development in a concise and straightforward format, this is the best book I have ever seen.'

Michael L. Keepe, Adjunct Instructor of Saxophone and Music Industry, Pima County Community College, Arizona
'Artist Development has an often light-hearted tone of voice that makes for easy reading, while at the same time the content is urgently serious and to the point. I could have avoided paying a lot of unneccessary dues in my career if I had had access to the kinds of knowledge and advice this book offers. It's easy to see how much the author embraces his multifaceted involvement in the music industry and that he loves artists who work hard, take intelligent risks and make the sacrifices the business so often demands.'

Ed Corey – Professor: Guitar/Music Theory/Jazz & Improvised Music Studies, University of Nevada, Reno
---
'Eugene has created a must-read for anyone trying to break into the music industry. With real life examples & an honest, realistic approach, this book lays out what you need to do to get your music career off the ground. Two thumbs way up!'

Michael Friedman, CEO/Publisher, Skope Magazine
---
More Quotes about the book:
'Artist Development empowers readers with essential information on every aspect of the career-building process. To think I was informed before reading this book! Eugene Foley is clearly writing from a place of experience, and communicates this knowledge in an amicable and unambiguous way. As a songwriter, performer and educator, I would not hesitate to recommend this book to any student with even a remote interest in the music industry. Foley also goes beyond the basics by offering his insight into such aspects as re-mixing and alternative career options. In the ever-shifting world that is the music business, Artist Development is one of the most relevant and useful guides out there.'

Amber deLaurentis, Instructor, Jazz Vocal Studies, University of Vermont
---
'From an educational standpoint, most music students preparing for careers as performers have little knowledge of the business of music. Artist Development offers clear explanations about the music industry that cut to the chase when one is looking for straightforward answers. Eugene takes us through the process and the pit falls of professional career development and directs us toward a successful approach to pursuing our musical goals. This book should be required reading for all performance majors who intend to pursue careers as professional performers and recording artists. After reading Eugene's book, you will agree that having a firm grasp of the music industry is possibly the most important tool that one possesses aside from talent.'

Dr. David Schroeder, Jazz Studies Director, New York University
---
'Eugene Foley shares his wealth of experience with honesty, clarity and a friendliness that makes Artist Development a pleasure to read. Strongly recommended for any do-it-yourself artist who's ready to take their act to the next level, but isn't quite sure how to get there.'

Mare Wakefield, Independent Music Editor, Performing Songwriter Magazine
---
'This book from music industry veteran Eugene Foley sheds a lot of light and insight on the music biz for bands and artists trying to make headway. He's been there and done it, so the information is all very practical and comes across well. Dig into this easy-reading book and learn a thing or two about the art of artist development…and what it's really all about.'

American Songwriter Magazine
---
'Foley captures the reader and holds on to them page by page, speaking to them, not at them. You can tell as you digest the material that he is both knowledgeable and experienced in the field of artist development… Even the book itself, weighing in at 180 pages, is not only a valuable asset to your business plan, but a pleasure to actually read… Stressing the words 'artist development' is important when describing this book and its enclosed lessons. Foley's instruction is directly related to building artists for the long haul… If your heart is set on succeeding, Foley's book provides a detailed road map to guide you through almost every trap that you may encounter along the way… Genius advice… Underpriced to its true value in my opinion, with a cover price of only $12.95, this book in properly motivated hands can be priceless, providing guidance that will drive an artist's career forward by leaps and bounds.'

Shinbone Magazine
---
'Artist Development is a must-own and a must-read for anyone who's played an instrument or sang a song and is looking for a potential career or audience. And with its razor-sharp points and friendly, non-condescending tone, Foley has created a book as impressive as his growing credentials in the industry.'

Northeast Performer Magazine
---
'Artist Development is a well-written, well-implemented guide for anyone starting out in the business… It's written in a friendly and laid-back tone, totally non-threatening, but confident and honest. The music industry right now is a terrifying place, shifting hard and fast, and it is absolutely essential for any artist to be able to hold his own not just as a performer, but as a corporation… Foley's history in the industry is extremely apparent, and he offers anecdotal examples throughout, to keep an otherwise lofty subject matter grounded and applied.'

Origivation Magazine
---
'In his new book, Artist Development, Eugene Foley manages to effectively convey the necessity of grasping this 'lost art.' With to-the-point chapters addressing essential topics that every artist needs to understand and embrace, Foley allows the reader to achieve a broad knowledge of what is needed to excel in the music industry. An invaluable read.'

Katie Zimmerman, Universal Music Group and singer-songwriter.
---
'Artist Development is a must-read for anyone looking to have success in today's music business. Foley breaks down every aspect of the industry in terms that any aspiring artist can understand. The steps and goals set out in this book are a blueprint for success.'

Kurt W. – Operations Director – WSOU Radio – New Jersey
---
'Artist Development is informative and useful for anyone interested in music entertainment. The bullet point lists state clear objectives and checklists explained in detail. Following the advice in this book could definitely save a lot of time, money, and stress for artists new to the industry.'

Gina Alioto – Operations Manager – WBMB Radio – New York
---
'Don't Leave Home Without It! Eugene Foley has taken the complexities of artist development and written a practical 'nuts and bolts' manual that will help bands, managers, and even parents get on the right track. With the constant changes in the music business in the digital age, I found this book provided me with a multitude of great ideas for immediate use by my clients.'
---
'Many dream of becoming a rock star. Few realize the enormous amount of work it involves. With the recent decimation of the music industry, even more of the burden falls on the artist's shoulders. Now, no one gets signed unless they are already a success! With so little time and so much to do, musicians will greatly profit from the "work smart" techniques laid out in "Artist Development," written by Entertainment Agent and Consultant, Eugene Foley…
'Buy this book if you want to succeed! Buy this book if you want to succeed!'

TheWorkingMusician.com / Roger-Z
---
'Gene has written the most comprehensive, easy to understand "How to Succeed" book for the music industry. A veritable shopping list explaining the road to success, complete with potholes, detours and how to navigate around them, and end up on top! The ideals in Dr. Gene's book are not limited to the music industry. This book is so well written that its guidelines can be applied to almost every industry. It is more of a success manual then it is a "how to succeed in music" manual.'

Nightmare, Owner, Black Sky Radio
---
'Without trepidation, I recommend this book for anyone looking to get out of their garage and into the music business. This book is the best thing you can get outside of learning from years of your own mistakes.'

Metal Mike Chlasciak, guitarist in: Halford, Painmuseum, Sebastian Bach & Testament
---
'Artist Development, A Distinctive Guide To The Music Industry's Lost Art is full of valuable tips to help you advance your music career and is a huge asset for up-and-coming artists, musicians, songwriters, managers and independent label owners…. This book is definitely a must read for everyone that works in and around the music industry! Foley shares a wealth of knowledge that you can start using immediately… Foley clearly defines each area of discussion so that you can take action right away to improve your music career. Artist Development shed light on so many valuable topics that it is a must have tool for your arsenal!… In an industry where Artist Development is often ignored, here's your chance to stand out in the crowd…. Rating: 5 Stars'

Proximity Station (Kmp3FM.com)
---